Jocelyne Chauveau:
From Art History to Creation
Thanks to the national press, as fate would have it, I encountered her delicate silhouette and gaze through love, you see, one of those ocular mirrors where intelligence and passion sensually intertwine. Tired of following the Ancients, with their works and their history, she planted, one day, in Montparnasse, her pencils and her brushes into the wet paper, under the benevolent and vibrant gaze of Mistress Light, the eternal lover of all painters.
Ah! Watercolour, that dash of water from which colour springs, often as if in a dream, a beautiful sight for our stunned gaze to behold. But don't be fooled, the precision of each gesture, the subtle dosage of water and colour turn this demanding pictorial art into a veritable alchemy that transforms innumerable emotions into a single, endless rapture.
At a time when the world of the living grumbles like a volcano, allow yourself a short moment of respite, of sweetness and of joy. For the next month, come join us in the beautiful city of Avignon to appreciate the works of Jocelyne, this woman who is not only daughter to Light and to Colour, but to Joyfulness as well.
Pierre-Émile GIRARDIN,
journaliste
Watercolour…a subtle and difficult technique, where elegance and refinement allow no weakness, Watercolour, with its discrete charm and its poetic potential, where the fusion of light and water enrich its paper backdrop, Watercolourist… yes, Jocelyne Chauveau is one, with her gentleness and her rigor, having cleverly observed the Ancients to better capture a diversity of subject matter with her own personal style: a magic of hand and spirit, an invitation for us to learn how to see more, and better!
Ophélie DELHOMME,
Art Historian
The 30th Val d'Or International Exhibition Catalogue, Plastica Latina, 2002
We are delighted to see her exhibit in her home town, and to have the pleasure of seeing a true talent amongst those that our friend Coffin has helped to progress and to blossom. Jocelyne Chauveau's painting is mellow, not strident, well structured, delicate and dreamlike all at the same time, she translates the deep-seeded self of every artist.
Le Dauphiné libéré, September 6th 2003
This passionate artist and specialist in the water paints technique approaches multiple themes (portraits, nudes, landscapes, flowers and fruits, still lifes from day-to-day living) that always aim to reconstruct life and movement though light.
The 31st Val d'Or International Exhibition Catalogue, Plastica Latina, 2003
With the quality, the fluidity and the structural integrity of her work, Jocelyne Chauveau leads us in to a poetic, dreamlike world. Every one of her pieces is a rapture for the eyes as well as for the soul, so seamlessly the mastery and the flexibility of her brushstrokes are allied to a scale of mellow tones, together our pleasure to behold.
Côté Arts
n°27, November-December 2003
Undertaking a watercolour production of true quality is an exploit that few artists actually manage to pull off. In the case of Jocelyne Chauveau, unity is the overriding force, her perspective is confident, her brushstrokes well mastered, and her nuanced palette is radiant as well. Accomplished art that deserves to be acclaimed.
Philippe Amiel,
Chief Editor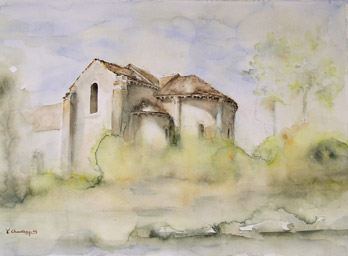 The Republican Berry
August 4th-11th 2004
For the past few days, it is Jocelyne Chauveau's exhibit that has hung from the picture mouldings of the d'Allichamps Convent, and will continue on until the end of the month of August. This show Watercolours from here and elsewhere is not to be missed.
(…) the light, soft or hard, is always her fundamental source of inspiration to create movement.
The New Republic of the Center-West Region,
August 6th 2004
The d'Allichamps Convent has given her carte blanche for one month. She will be showing 24 watercolours. Come meet an artist who engages in a perpetual struggle with water.
One drop too many and the colour escapes, veering towards a large, muddy splotch, drenching the paper, now buckled. Watercolour requires nerves of steel, a light and confident hand, a precise sense of dosage. When Jocelyne Chauveau leaves the dry poetry of the official newspaper where she works, she throws herself into the fluid element. At which point she has entered a new dimension, the uncertain world of watercolour. (…) Watercolour is a constant challenge. The trick is to do whatever you can to ensure that it gets away from you as little as possible.
Emmanuel Coupaye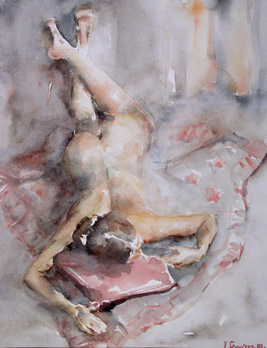 The New Republic of the Center-West Region, August 11th 2004
"Your watercolours have a soul."
Maurice Larguinat,
President of the Friends of the d'Allichamps Convent
The Republican Berry
November 3rd, 2005
For the inauguration of the Autumn Exhibition, three painters from the Orangerie were honoured by the municipality of Saint-Armand. (…) The President M. Giet congratulated J. Chauveau, watercolourist, who received the Gold Medal for Artistic Merit at the Collioure Exhibit. And because good news always comes in pairs, the President also announced that the jury that had convened only minutes earlier had also just conferred upon her 1st Prize honours from the municipality for her painting of a nude, Sarah.
Artissime n°1 , July-August-September 2006
(Excerpts)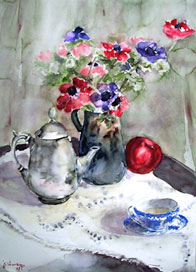 (…) It is a question (for her) of lifting watercolour up to the symbolic realms of poetry and of integrity.
"I was drawn to the suggestive power of this medium, a sort of extract between idea and gesture, between concept and form that I give it, with an economy of gesture, on the paper, (…)"
" – Patience and perseverance are, in my mind, the two qualities that I would place first above many others, amongst which the assuredness of the brushstroke and the ability to make quick decisions. Because it is a question, you see, of the continuous dialogue between the artist and her medium during the entire drying period, in order to determine the precise instant when she should intervene. A pivotal moment that is always relative to the desired effect. (…)"
"- Because I have learned how to draw, I am able to "forget" the drawing when I paint. Even if it doesn't show, even if the artist goes outside the boundaries of its lines, the underlying sketch remains the basis for the work's visual structure. This is why it is essential to continue drawing…"
Pierre-Emile Girardin,
Chief Editor
The New Republic of the Center-West Region, September 15th, 2007
One more week at the Orangerie.
Only one more week remains for art enthusiasts to come discover the work of six artists at the Orangerie Gallery, in Saint-Amand.
First off, Jocelyne Chauveau, well-known watercolourist, returns this time to the Orangerie to exhibit her latest pieces featuring ruby-red female nudes (…)
The Republican Berry
August 31st, 2007
Three weeks of exhibits by six painters
(…)
In attendance is Jocelyne Chauveau, who has already shown her work at the Orangerie, as well as in other halls in the region. On display are her latest pieces, amongst which several ruby-red nudes, that really deserve a look: technique and emotion come together for your eyes to enjoy.